Peter Doraisamy LLC is pleased to announce the appointment of Kyle Gabriel Peters as Partner of the Firm with effect from 9 November 2020.
Gabriel's main area of practice is commercial and corporate litigation with an emphasis on insolvency and restructuring, fraud and investigations, and international arbitration.
Gabriel began his legal career in a leading litigation practice group and trained under Senior Counsel and notable disputes practitioners. Prior to joining Peter Doraisamy LLC, Gabriel practised in a busy litigation and dispute resolution team of a global law firm.
Gabriel regularly handles complex cross-border commercial and corporate disputes, and represents financial institutions, multinational corporations and organisations, and corporate creditors/debtors. Gabriel has significant experience in advising, co-ordinating, and managing concurrent disputes and proceedings across multiple jurisdictions.  Gabriel is frequently instructed as lead counsel, and has successfully argued a broad range of civil litigation matters, contentious insolvency proceedings, and corporate restructuring applications in the High Court.
Gabriel has a strong focus on giving back to the community. Gabriel volunteers with the Criminal Legal Aid Scheme and the Community Legal Clinics organised by the Law Society Pro Bono Services. Gabriel also volunteered as counsel in numerous proceedings under the Ministry of Social and Family Development Assisted Deputyship Application Programme. Gabriel has an active pro bono practice, and recently acted as lead counsel in a High Court Originating Summons proceeding relating to a declaration for severance of joint tenancy.
Gabriel is a member of the School Management Committee of St. Patrick's School and is a member of the Education Sub-Committee of the Eurasian Association. Gabriel also served and continues to serve on numerous Standing Committees of the Law Society of Singapore.
We are glad to welcome Gabriel as the firm's newest partner, and look forward to his continued commitment to delivering effective solutions and quality representation to our clients.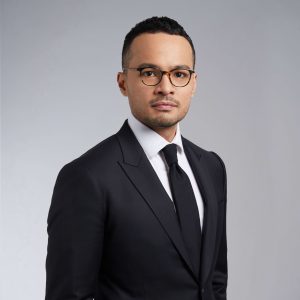 Kyle Gabriel Peters
Partner
T: +65 6220 0325
E: gpeters@pdlegal.com.sg
About the firm
Peter Doraisamy LLC is a firm offering a comprehensive range of legal services to its clients. This ranges from basic legal advice to complex litigation. Whatever the nature of the brief, the objective of the firm is to deliver personalised and approachable partner-level service in an efficient and cost-effective manner.
As an independent and conflict-free law firm, we are often briefed to take on matters against major institutions and corporations. By virtue of our independence and expertise, foreign law firms and other local law firms look to us to act as Singapore counsel.